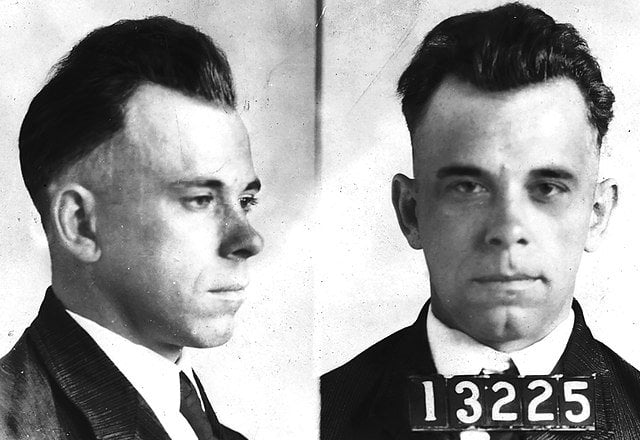 John Dillinger was a notorious bank robber and leader of the Dillinger Gang. He operated in the Midwest in the 1930s. Dillinger was known for his sophisticated and daring heists, and his ability to evade capture by law enforcement. He was also known for breaking into police stations and breaking himself and other criminals out of prison.
By the 1930s, he was a nationwide celebrity. His status as "Public Enemy #1" put him on the front page of newspapers throughout the country. When he switched to driving Fords, car dealerships started using him as an unsolicited celebrity endorser. He was one of the most recognizable faces in America.
John Dillinger's plastic surgery procedures
In 1934, he realized he needed to alter his appearance. Dillinger visited a plastic surgeon in Chicago named Dr. William Loeser. Loeser, a German immigrant, trained at Northwestern University and ran a successful surgical practice until his arrest for manufacturing and selling cocaine and heroin in the U.S. Dr. Loeser was paroled in 1932. Then he fled to Mexico, where he developed a technique to remove fingerprints with acid.
It's reported that Dillenger chose ether as an anesthetic but was given too much and Loeser rushed in and unblocked Dillenger's airway. After almost dying from the ether he chose a local anesthetic.
During the excruciatingly painful procedure, Loeser and another doctor, Dr. Cassidy, worked on him for hours. They removed a mole on his forehead, filling in his cleft chin and dimples, and filling in his cheek seams using kangaroo tendons. A few days after the facial procedures, they burned off his fingerprints using acid. Then he returned again for some minor work.
Aftermath
After the procedures, Dillinger realized the surgeries didn't do much. People still recognized him even with his disguises (dying his hair, changing eyebrows, etc.) An autopsy later showed that Dillinger still had recognizable fragments of his fingerprints.
Dillinger was able to evade capture for several months, living in a Chicago brothel. However, on July 21, 1934, law-enforcement officers received a tip that Dillinger would be at the Biograph Theater the following night. Local and federal officers surrounded the theater and eventually gunned him down in an alley.
Dillinger's body was displayed at the Cook County morgue. Around 15,000 people viewed the corpse over a day and a half.
Dillinger's plastic surgery shows how far he was willing to go to evade capture. Even relying on new and experimental procedures. It's a reminder of the lengths people will go to to avoid being caught.
Other articles to read:
http://chicagocrimescenes.blogspot.com/2009/10/dillingers-plastic-surgery-on-pulaski.html
https://www.pbs.org/wgbh/americanexperience/features/dillinger-john-dillinger-timeline/
Other Chicago posts:
The canal that put Chicago on the map
America's deadliest theater fire